December 11, 2016
|
|
City News, Communication, Community News, Facts & Information, Important Notice, Kings Ridge HOA, Landscaping, National Night Out, Safety, Social Event, Yard of the Month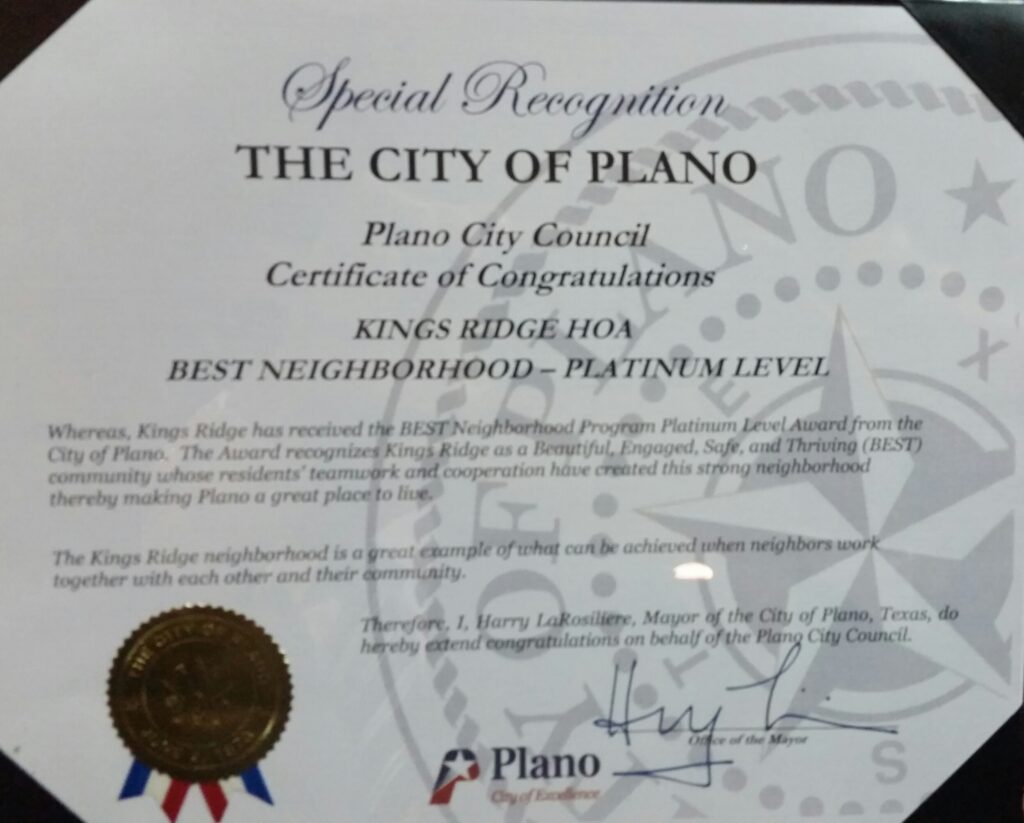 The Kings Ridge HOA, and three others, have achieved the highest award bestowed by the City of Plano to HOAs as part of its new BEST Neighborhoods program.
On Monday, Dec. 12, HOA leaders from Kings Ridge attended the Plano City Council meeting at City Hall during which recipients of the newly established awards program were recognized for fostering a neighborhood that is beautiful, engaged, safe and thriving. (Neighbors can watch a replay of the awards ceremony at the beginning of the Council meeting on the local Plano TV channel that varies depending upon your video provider.)
The City, through this program, wants to acknowledge residents who work collaboratively to create the strong neighborhoods that make Plano a desirable place to live, work, and play.
In being declared a 2016 BEST Neighborhoods Platinum Awardee by the City of Plano, Kings Ridge earned a net score of 86 in the program that required a detailed application to be submitted to the City. A handful of other neighborhoods earned Silver and Gold Status.
In the application, answers were provided about questions involving neighborhood beautification efforts, communication programs, safety and resident/citizen engagement. The application also allowed each neighborhood to share an open-ended narrative that best described its personality, tone of voice, leadership approach and unique differentiators.
The City of Plano recognized Kings Ridge most for its "strong resident engagement efforts through multimedia communications and the hosting of numerous community-building events. Your National Night Out event has become a hallmark for Kings Ridge and is particularly outstanding. Also impressive are your beautification and sustainability efforts as evidenced by use of the Neighborhood Vitality & Beautification Grant and active promotion of responsible watering practices."
In recognition of this high honor, two neighborhood entrance signs bearing the 2016 BEST Neighborhoods Platinum Awardee image and Kings Ridge HOA name will be placed near the neighborhood's two largest entrances by McKamy/Round Springs and Kings Manor/Spring Creek Parkway on Friday, Dec. 16. Platinum level neighborhoods may reapply for designation every five years. Silver and Gold awardees looking to move up and award level may reapply each year.
Congratulations neighbors on this community-wide honor that reflects what a special place Kings Ridge is to live, work, learn and play!