Plano is a city in the state of Texas, located mostly within Collin and Denton County. The city's population was 285,000 at the 2020 census, making it the ninth most populous city in the state of Texas and the 69th most populous city in the United States.
Plano is 20 miles north of downtown Dallas and is home to many corporate headquarters: Toyota Motors USA, Cinemark Theatres, Dell Services, Dr Pepper Snapple Group, Frito-Lay, HP Enterprise Services, J. C. Penney, Pizza Hut and Rent-A-Center.

Plano has been designated the best place to live in the Western United States by CNN Money magazine several times, and one of the top cities to retire and start a business.
It was also selected as the Safest City in America several times by Forbes. It has been rated as the wealthiest city in the United States by CNN Money, and the United States Census Bureau declared Plano the wealthiest City of 2008 by comparing the median household income for all US cities whose populations were greater than 250,000.
The annual Plano Balloon Festival and the Plano International Festival are two of the city's premiere cultural and entertainment events.
The Lewisville Independent School District is committed to educational success through real innovation and limitless opportunities for all our students. Annually, LISD receives numerous academic accolades, fine arts honors, athletic championships, and finance awards, which is a direct reflection of that commitment.
LISD's highly qualified team, technology integration, involved community and hard-working students make the Lewisville Independent School District a premier school system in Texas.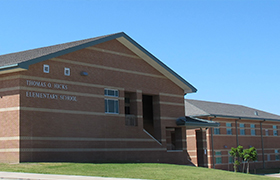 Tom Hicks Elementary School
Principal's Message: At Tom Hicks Elementary, we have purposefully designed a 21st-century learning organization that teaches students to think globally in the digital age. We aspire to authentically engage every student every day to create and learn.
We understand that today's digital natives cannot be taught utilizing only lectures, textbooks, chalkboards, and worksheets; rather, students must be challenged through the use of technology to think, plan, create, and collaborate. Through these activities, we have established ourselves as a leader in the education community and are proud of our success. Learn More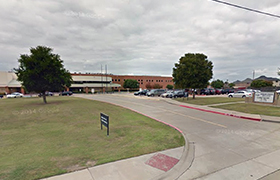 Arbor Creek Middle School
Principal's Message: The Arbor Creek Middle School Community of students, teachers, and parents will work together with trust and mutual respect to ensure academic success and responsible student involvement in our school, families, and society.
I am looking forward to my fourth year as Principal at ACMS and getting to know you and your student. Our caring and supportive staff have created a true learning organization at ACMS that provides engaging and innovative experiences for your student. We look forward to sharing these learning experiences this year with your student and you. We appreciate your support as we strive to continue our tradition of excellence.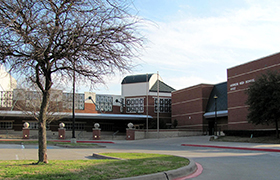 Principal's Message: Hebron High School will empower our students to become productive citizens in a global society by providing a supportive learning environment with engaging lessons. We will ensure that all students receive the assistance necessary to achieve academic success. Hebron High School will be an exemplary campus according to the standards of our community, state, and nation.
The start of each school year brings excitement and anticipation, and this year is no exception as LISD's 1:X (One to X) initiative continues to create a buzz with every ninth, tenth, and eleventh-grade student set to use their devices. Students will be able to keep their iPads until they graduate in order to assist them not only in their classes at school but also with their studies at home.