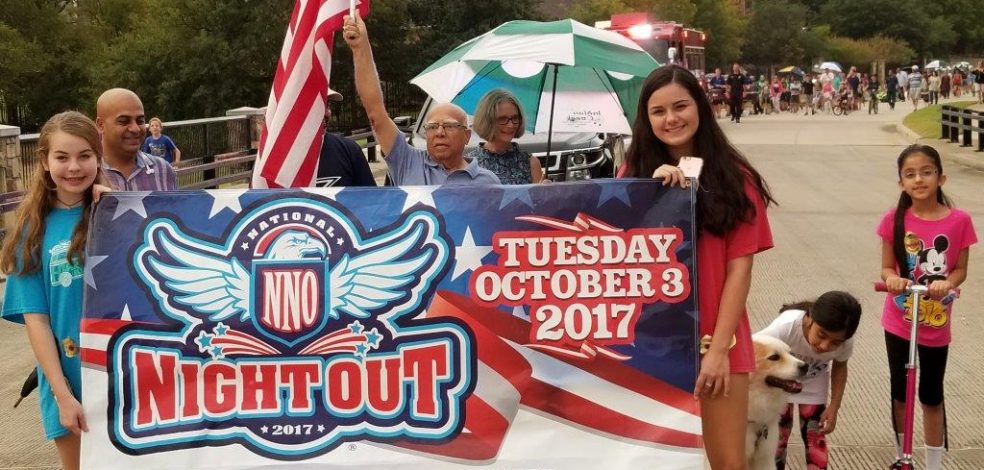 January 8, 2018
|
|
City News, Communication, Community Event, Community News, Facts & Information, Important Notice, Kings Ridge HOA, National Night Out, Safety, Social Event
The City of Plano Police Department has notified us that Kings Ridge once again hosted the city's largest HOA-sponsored National Night Out event in 2017 for the 8th consecutive year!
This is great news for our neighborhood and affirms our focus on crime prevention, recognizes the professional work of our volunteer team and close alliance with City of Plano first responders, city staff and elected officials.
Last October, due to an ominous weather forecast and a driving storm that mercifully arrived after parade and speaker remarks, we had 100 less attendees from the previous year's record crowd of 425.
The 325 who attended enjoyed an amazing night in Plano that kicked off to the beat of the state winning Hebron HS drum line in our parade with Fire Engine 13, the Plano Police Chief, the Plano Fire Chief, and other members of the Plano Police Department and Kings Ridge neighbors of all ages and pets. Following the parade, the VIP speakers delivered remarks about safety and community engagement and prizes were awarded to parade entry winners.
All neighbors are invited to volunteer to help plan and put on the 2018 National Night Out parade and community event. By tradition, National Night Out takes place in North Texas on the first Tuesday of October which is Oct. 2. Reach neighbors Paul Nolte or Bill Kula if you are interested at [email protected] and [email protected].