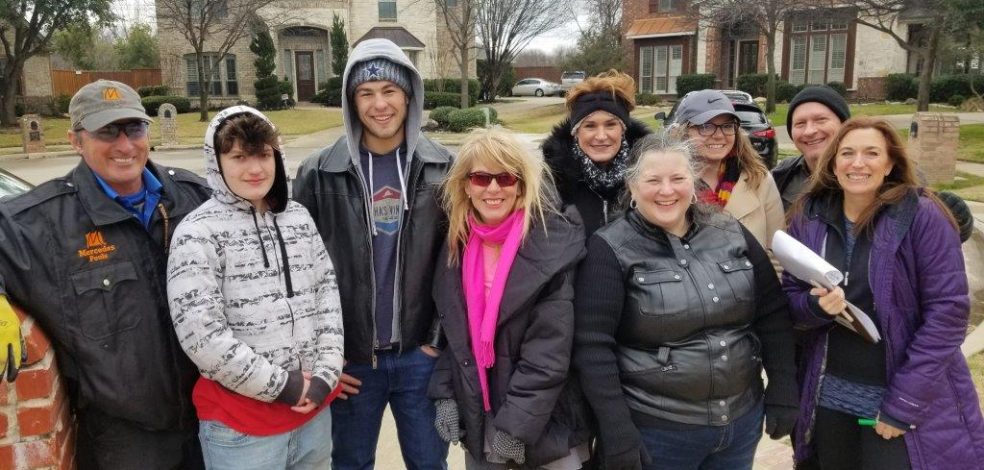 Displaying compassion as big as Texas, Kings Ridge families, in partnership with Deborah Hayes, a Realtor with Texas Homes Network (part of Keller Williams Realty) who ignited the program, and Sam Morrison, Life at the Ridge monthly magazine publisher, helped stock the shelves of Minnie's Food Pantry on Saturday Jan. 19 (and a follow-up visit Thursday, Jan. 24) with 3,118 pounds of food.
The donated – and much needed – non-perishable canned and boxed food items equate to 2,598 meals according to Plano-based Minnie's staff.
"We're grateful for the active, compassionate help of so many neighbors who gave with their heart," said Kings Ridge block captain coordinator Stephanie Davis.
With the coordinating support from Sam and Deborah, plus additional food transport services offered by David Dixon, owner of Mercedes Pool, hundreds of bags dropped off at Stephanie's home by block captains were loaded into a large covered Mercedes Pool trailer and other neighbor vehicles and taken to Minnie's on Saturday morning.
"The response was overwhelming, yet very characteristic of the giving nature Kings Ridge neighbors have shown over the years," said Stephanie. "Neighbors purchased food, and our block captains and other volunteers gathered hundreds of bags from every street in the neighborhood in the coldest weather conditions of the year."
The non-perishable canned and boxed food items collected included canned meats, fruit, beans, vegetables, soups, peanut butter, jelly, bagged rice, beans, boxed and packaged potato products, pasta, pasta sauce, macaroni and cheese, flour, sugar, infant formula and baby food.