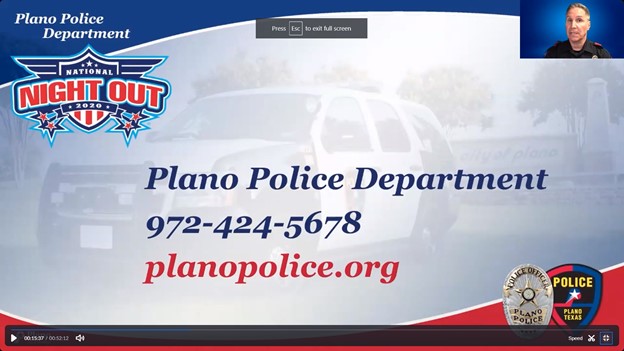 The Kings Ridge HOA, with guest appearances from the Plano Police and Fire Department, hosted a virtual National Night Out celebration Oct. 6 to shine a light on safety and inform neighbors about ways to make their homes less vulnerable to crime.
During the Zoom-based gathering hosted by the Kings Ridge National Night Out committee – Paul and Diane Nolte, Stephanie Davis, Dana Kelley and Bill Kula – neighbors of all ages, enjoyed a specially created National Night Out video from Plano Police Chief Ed Drain, https://www.youtube.com/watch?v=kiN_cpSV1jQ&t=184s.
In addition, Crime Prevention Officer Chris Bianez, joined the meeting online and provided guidance and insight about ways neighbors can best protect their home and property from thieves. Officer Bianez stressed the importance of closing garage doors, locking vehicle doors, using video surveillance cameras and installing sturdier door plates to make it more difficult for thieves to enter doors.
According to Officer Bianez, the Kings Ridge HOA was the only Plano neighborhood to have a live appearance of a Plano Police office during a virtual National Night Out 2020 celebration, referring to our neighborhood as a model neighborhood for stressing the importance of safety. Our HOA has hosted the largest National Night Out celebration in Plano the past 10 years.
Neighbors watched a City of Plano video featuring Kings Ridge neighbors talking about safety, https://www.youtube.com/watch?v=Jnl4eA3OoHQ&feature=youtu.be.
Plano Fire Chief Sam Grief offered a personalized message in a pre-recorded video for the Kings Ridge HOA. He offered his appreciation to our community for their heightened engagement with the City of Plano. Chief Grief stressed the importance of neighbors having an in-home plan in the event of a fire. Since most fires in homes start from unattended cooking in the kitchen, he stressed the importance of monitoring cooking activity in the home.
While the Covid-19 pandemic thwarted all City of Plano plans to commemorate National Night Out 2020 in person, the Kings Ridge HOA once again demonstrated its leadership in helping unite first responders with neighbors in a meaningful way.
At the conclusion of the Zoom meeting, HOA Block Captain coordinator Stephanie Davis posed questions involving safety to neighbors. Those who most quickly answered questions correctly received gift cards from two nationwide National Night Out sponsors, Academy Sports Outdoors and Starbucks.