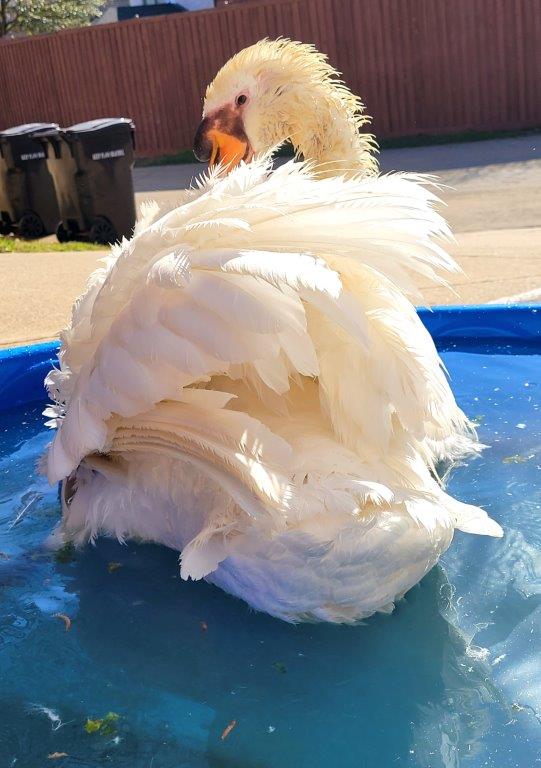 By Bill Kula (Communications chair / swan caretaker)
Lady Swan has continued to recuperate well in my two-car garage from her Feb. 5th foot injuries that required surgery. She's eaten well, swan in a kiddie pool on our back driveway for exercise and appears much stronger to invite a return to the neighborhood south pond.
Our March 19th reunion between Lady and Sir Swan didn't go as planned as the male swan was overly aggressive in his mating activity. His actions aggravated the foot injury for his sweetie pie. Fortunately, our exotic animal vet who inspected Lady Swan reported no broken bones or long-term injuries.
In consultation with our East Texas swan breeder, we've been advised to gradually re-introduce the female and male swan that mated twice on March 19th, and many times in previous years, at the pond.
** POND REUNION – Part II **
The reunion, however, must be done carefully per our breeder and other exotic animal experts. Neighbor volunteer extraordinaire Carmen Wright and I are working to install a temporary see-thru fence that will allow the two swans to see one another but not touch each other for 7-10 days. This is atop the daily support Carmen has provided my wife and me in the care of Lady Swan who has lived in our garage for more than 7 weeks in a safe, comfortable environment.
The 7 to 10 day period for the gradual re-introduction at the pond per our breeder, is necessary to help the male remember that the female in the pond is his mate, and not be overly aggressive with her when mating that could cause harm. This approach is advised by our breeder rather than keep Lady Swan out of the pond through the end of mating season in June.
As the see-thru fence is erected, the female will be provided access to water and to land in the water overflow area filled with animal bedding and hay for nesting and resting purposes.
Meantime, the male will have access to the rest of the south pond and the floating island.
As the two swans become more re-acquainted, it is our hope and prayer that we can remove the temporary fence and have the birds interact peacefully with the possibility that eggs could be laid by the female soon based on the March 19th mating.
While many love watching the swans at the pond, we ask that they be afforded some space to enjoy the great outdoors, and a reminder to please NOT FEED the swans bread or other food. Their main food is located in the pond, and the supplemental food in their feeder is approved by our breeder.
** DONATIONS WELCOME **
In total, our expenses related to the care and treatment of Lady Swan dating back to the injury have surpassed $6,200. Donations from neighbors, nearby friends and others has been so gracious and allowed us to cover those expenses. Thank you to all the swan fund donors!
Costs paid to date have included medical evaluations, surgery, medicine, bandaging, medical supplies, splinting, hospitalization, food, garage living accommodations, nesting filler and hay and pond netting/fencing equipment.
** HOW TO DONATE **
If you'd like to contribute to the volunteer swan fund (a reminder that our HOA dues have never gone toward the maintenance and care of our resident swans), that is welcomed and appreciated.
• Wendy and I live at 6413 Ladbrook Court in phase one, a cul de sac adjacent to the phase one green belt with trees and small creek with water that overflows into it from the south pond.
• We have a "Swan Fund" container on our porch visible via our Ring camera for cash or checks.
• For digital ease, my Venmo account is @Bill-Kula. My mobile is 214-789-1644.
• If you wish to contribute via check, please write the check to Bill Kula and place "swan fund" in the memo line for accounting purposes.