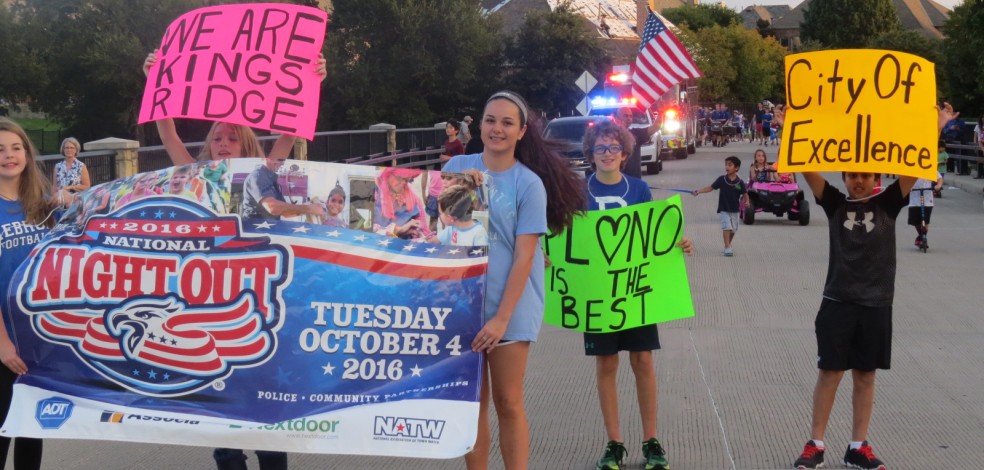 Kings Ridge neighbors rocked National Night Out by shattering our past record attendance (for the entire city of Plano). On Tuesday, 425 neighbors turned out in force (many dressed in blue to honor first responders) and joined in our largest parade and greenbelt gather ever. We enjoyed an amazing evening that shined the light on safety and community engagement.
Our HOA received a special proclamation from the Mayor of Plano Harry LaRosiliere via Councilman Tom Harrison that recognized Kings Ridge for the way it celebrates National Night Out.
Joining Tom as guest speakers were Plano assistant police chief Dan Curtis, Plano fire chief Sam Greif, Lewisville ISD East Zone Leader Leigh Ann Lewis and Lewisville ISD Board of Trustee Vice President Tracy Scott Miller. The Hebron High School drum line also played during our parade and at the beginning of our greenbelt gather and Engine 13 rolled in our parade.
Ch. 11 CBS also did a brief story at 10 p.m. that featured images of our celebration. A three-minute story on the planning of a major event like National Night Out, and what it means to neighbors, is being produced by the City of Plano and will be shared when it's completed.
So many volunteers helped in a variety of ways, so THANK YOU to all who helped make the 2016 event so special. We've got things to work on for future events, and those pesky fire ants are not kind we know even when treated multiple times.
More photos to come on our various social platforms in the days ahead. For now, take a bow Kings Ridge!