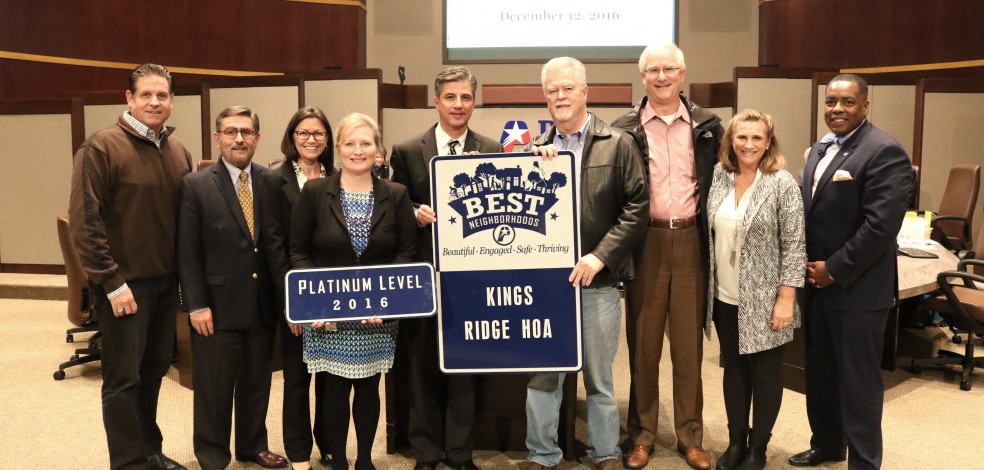 December 14, 2016
|
|
City News, Communication, Community News, Important Notice, Kings Ridge HOA, Landscaping, National Night Out, Safety, Social Event, Yard of the Month
Shown left to right in the SMALLER GROUP PHOTO: Former Kings Ridge HOA board president BRENT RICE, current Architectural Control Committee member JOHN MALUSO, Plano Neighborhood Engagement Manager TIFFANY TONONI, Plano Director Neighborhood Services LORI SCHWARZ, former board vice president and current Communications Committee chair BILL KULA, current board president GLENN BARLOW, former board president and current board vice president PAUL NOLTE, current Social Committee chair DANA KELLEY, and the Honorable Mayor of Plano HARRY LaROSILIERE.
This photo was taken at Plano City Hall in the Council Chamber during Monday's Council meeting as the first four neighborhoods in Plano to earn the BEST Neighborhoods Platinum level were recognized.
You'll see two new street signs with the 2016 BEST Neighborhoods Platinum logo and our Kings Ridge HOA name placed by the City of Plano near our two main entrances this Friday. You can be very proud of this honor and recognition neighbors as only four HOAs in the entire city earned this recognition for neighborhoods that have gone above and beyond to create a community that is Beautiful, Engaged, Safe and Thriving, or BEST!
Congratulations to the Platinum winners: Country Place Plano, Kings Ridge, Lakeside and Whiffletree (V, VI, VII) neighborhoods, all shown in the LARGER GROUP PHOTO at Plano City Hall. Gold winners are Deerfield, Highlands North Plano, Highlands of Russell Park and Windhaven Farm 1, and Silver winners are Forest Creek Estates and Glen Meadows, all representing the very BEST in Plano.