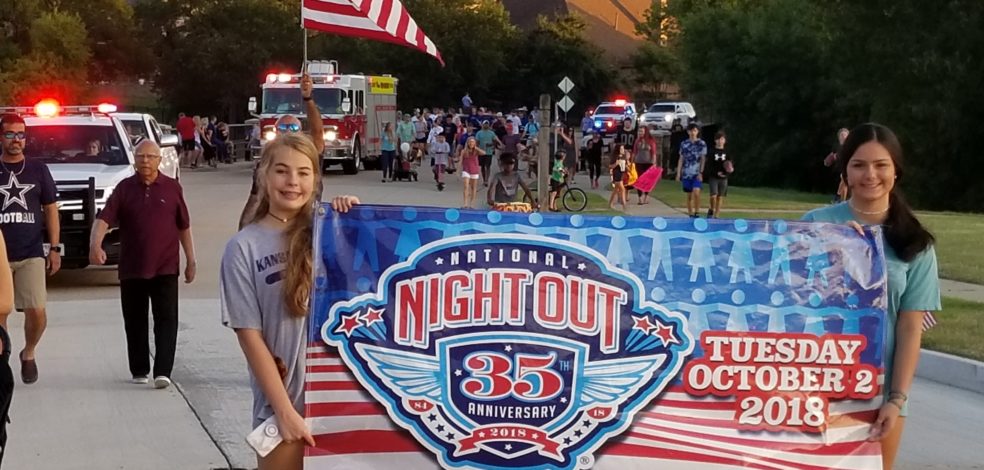 September 19, 2019
|
|
City News, Communication, Community Event, Community News, Community Service, Fun & Games, Important Notice, Kings Ridge HOA, National Night Out, Safety, Social Event
Neighbors, First Responders To Celebrate National Night Out on Oct. 1
The Kings Ridge Homeowners Association will partner with the Plano Police Department, Plano Fire and the City of Plano to shine the light on crime prevention and safety at its 17th annual National Night Out parade and community-wide event on Tuesday, Oct. 1 from 6:30 to 8:45 p.m.
This is the 36th year that National Night Out has been celebrated in the U.S. As host of the region's largest HOA-sponsored National Night Out event the past nine years, the Kings Ridge HOA (579 homes) was named one of Plano's original BEST Neighborhoods-Platinum level in 2016 based on criteria that involve beauty, engagement, safety and a thriving community.
The HOA's annual National Night Out adults, kids and pet parade that begins at 6:30 p.m., followed by safety celebration until after dark is expected to attract close to 500 people.
Plano first responders and city officials, plus the Plano Fire Station 13 crew and fire engine, and the Hebron High School drum line will participate in the evening's activities.
"As we approach our 20th year as a neighborhood, we're proud at how close knit Kings Ridge neighbors have become in working to prevent crime before it happens," said Kings Ridge HOA safety chair Paul Nolte. "We have established very strong formal and informal communication channels in our neighborhood that allows us all to be another layer of eyes and ears that look out for one another. Our intentional focus on safety, combined with a close working relationship with first responders in Plano has made Kings Ridge a wonderful place to live, work, learn and play."
Oct. 1 Agenda:
• 6:30 p.m. – 6913 Crystal Falls – Community parade with decorated entries and pets begins on Crystal Falls (parade route travels north on Kings Manor to HOA greenbelt park) including Plano Fire engine 13, Plano Police and the Hebron High School drum line.
• 7 to 7:15 p.m. – 6917 Traceland – Remarks about safety and community engagement by City of Plano Mayor Pro Tem Rick Smith, Plano Police senior official and Plano Fire senior official in a greenbelt park. (Extra outdoor lighting illuminates the greenbelt, allowing attendees to mingle past dark.)
The community-wide event will feature the Love Plano Heart to allow guests to showcase civic pride with photographs, complimentary food and drinks, music, bounce houses, youth activities and fire engine visits. The nearest intersection is Spring Creek Parkway and Kings Manor located one-half mile south of highway 121 and one-half mile west of Toyota's North American headquarters.
Following speaker comments, prizes will be awarded for a variety of entries such as best decorated parade entry, funniest entry, most creative entry, most elaborate entry, best costumed pet, youngest resident and newest family to move into Kings Ridge.
The National Association of Town Watch (NATW), http://natw.org/, hosts the annual event nationally and uses National Night Out as a way to bring neighbors and crime fighters together. Celebrating its 36th year, National Night Out involves more than 38 million people and more than 16,000 communities in the U.S., U.S. territories, Canada and military bases according to the NATW.