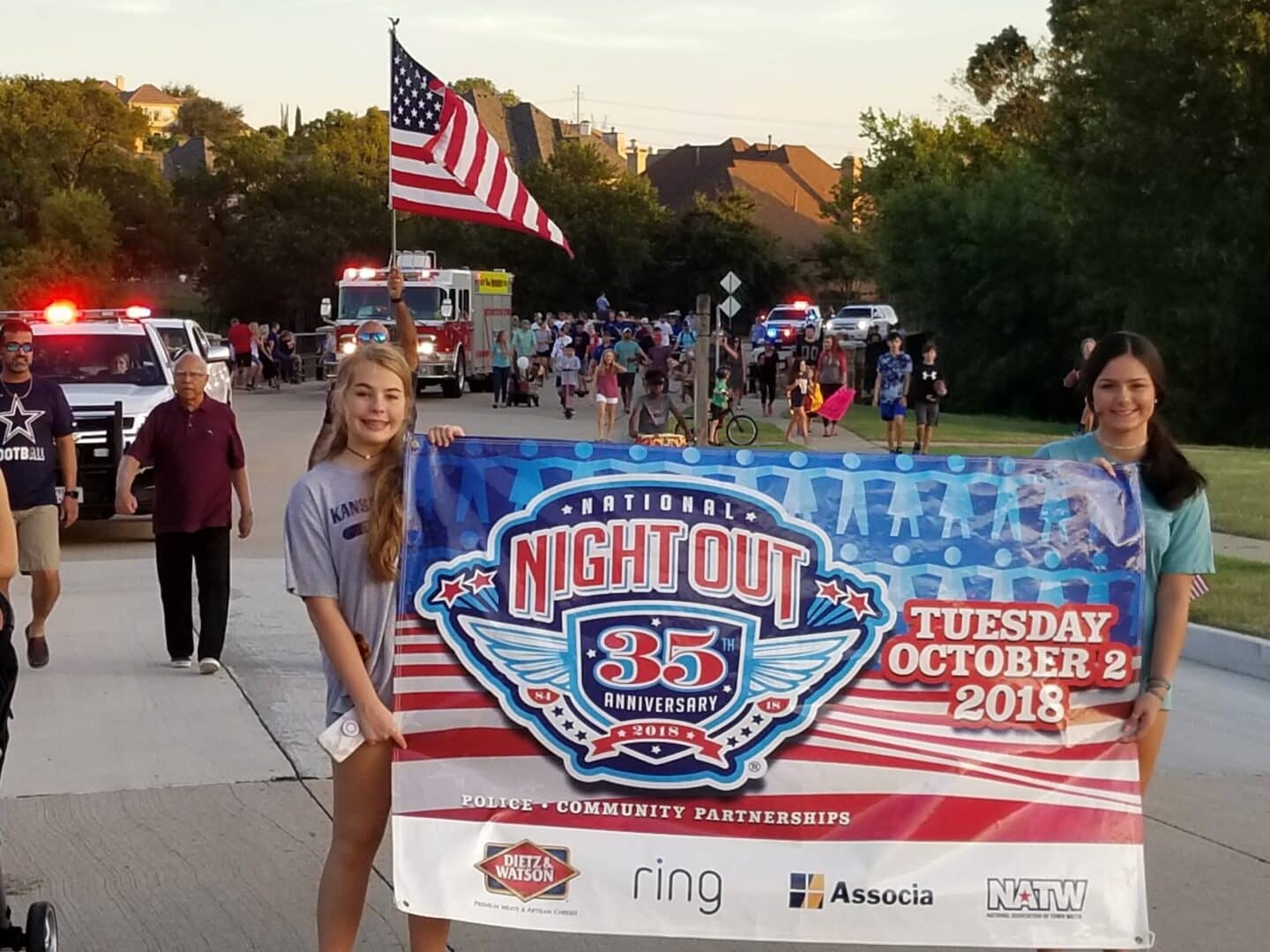 All Kings Ridge neighbors are invited to reunite at night on Tuesday, Oct. 4 as we host our 19th annual National Night Out celebration after a two-year hiatus due to the pandemic.
This high-profile event, in partnership with the City of Plano, Plano Police and Plano Fire, showcase safety and is the largest event in the neighborhood's history. Over the years, attendance has ranged from 250 to more than 500.
Our National Night Out parade and community-wide event starts with a 6:35 p.m. neighbor and pet parade with decorated entries and dogs on leashes near 6913 Crystal Falls.
The short parade route travels north on Kings Manor and right on Cannon Falls to our phase two greenbelt park and will include a U.S. flag, NNO banner, Plano Fire engine, Plano Police and the Hebron High School drum line.
From 7 to 7:15 p.m. near 6917 Traceland, there will be remarks about safety and community engagement by City of Plano, Plano Police and Plano Fire officials.
From 7:15 to 9 p.m. the NNO celebration continues with free pizza and tacos, a DJ, music, bounce houses, face painting and prizes for best decorated parade entries. Overhead lighting will illuminate the greenbelt, allowing attendees to interact past dark.
Host of the city's largest HOA-sponsored National Night Out celebration from 2010 to 2019, the Kings Ridge HOA is one of only two Plano neighborhoods to have earned the City of Plano's BEST Neighborhoods Platinum level award based on criteria that includes a neighborhood's work involving beauty, engagement, safety and cultivating a thriving community.
"Kings Ridge HOA neighbors work together to reduce crime by being engaged eyes and ears who say something when they see something unusual or suspicious," said Kings Ridge safety chair Paul Nolte. "We're excited to reunite with neighbors and City of Plano leaders and first responders. While National Night Out is celebrated every first Tuesday of October in North Texas, we work very hard as a community to make crime prevention and safety a year-round priority."
Following speaker comments, prizes will be presented for a variety of NNO parade entries such as best decorated, funniest, most creative, most elaborate, best costumed pet, youngest resident and newest family to move into Kings Ridge.
We need volunteers neighbors for everything from banner bearer, U.S. flag bearer, 3 parade judges, 2-4 pizza and taco servers, 2 banner holders during VIP remarks. To volunteer, reach Bill Kula at 214-789-1644.